There's been a lot of chatter lately about Facebook
hijacking personal photos for their ads
. Wasn't that big a deal to me, because it's just a matter of updating privacy settings. That's the least of my problems with social advertising.
I'm not a big fan of most of the social ads I get on Facebook. They tend to be rather stupid. But what really bothers me is what it says about how I'm being profiled.
For example, I don't post a lot of demographic information, but my profile does say that I am married. And yet it seems to get me
more
"singles" ads:
And then there's my age, which isn't public info but is (I assume) read by the advertising apps. So I get this:
I just hope it wasn't targeting using using biometrics :(
And then there's the content of my posts, often about the advertising industry. Which generated this unintentionally hilarious ad: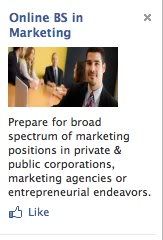 But, as an adman, I just hate being pidgeonholed by my own people. That's why I've set out to mess with Facebook ads in any way possible.
The first thing I did was become a fan of a bunch of random things, in a number of foreign languages. But all that got me was a bunch of travel ads.
So now what I'm doing is using the "feedback" function on social ads. If you click the little "X" at the top right of an ad, it asks you why you want to baleet it:
- Misleading
- Offensive
- Uninteresting
- Irrelevant
- Repetitive
- Other

"Annoying", "Trollicious" and "Makes me feel like a creepy old man" are not on the list, but you have the option to add those in.
So, I've started marking up every Facebook ad I hate. Online games, get-rich-quick schemes, fad diets, anything I think is stupid.
And what did it get me?
I give up.